When:
April 13, 2018 @ 7:30 pm – 9:30 pm
2018-04-13T19:30:00+01:00
2018-04-13T21:30:00+01:00
Lexi Wolfe is a award-winning British actress and writer. This is a powerful and spellbinding show especially suited to the wonderful atmosphere of the Assembly Rooms Glastonbury Hall.
Visit Lexi's official page here – https://www.facebook.com/LexiWolfeOfficialPage/
THE PENDLE WITCH – MAKING A RETURN JOURNEY!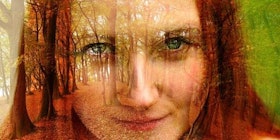 1636. Lancaster Castle – The Witches' Tower. You are imprisoned, awaiting trial, crammed into a cell with a solitary woman who has been here for years. She tells you the story that lead to her being imprisoned, beginning at a Witchcraft Trial, twenty-four years previously.
But she was not the accused witch. In 1612, she was nine, and she was a witness for the prosecution against the Witches Of Pendle, including her own brother, sister, and mother. In this story, the infamous Jennet Device herself tells her version of the events which lead to the hanging of ten people – impossible, had it not been for Jennet's testimony – and her how fortunes fared since then.
Tickets available soon.
Parental advisory: not suitable for children under the age of 12.
What an amazing show! It was riveting from the outset and suited to the stark bare wall environment. Very revealing story of how the young and innocent are manipulated by those in authority. Brilliant characterisation of the people involved in this tragic story. Their voices really came alive and the whole experience was deeply moving. So glad I made the effort to go.
What an incredible show. I was held spellbound for 2 hours..the atmosphere was built up and impacted from the minute it started. Very very glad i came! Thank you for a thoroughly brilliant evening.
I loved the performance last night. Very vivid descriptions, the innocence of the child, the deviousness of the authority figures. I travelled from Lancashire yesterday, my home, and attended the show. Thank you Lexi. You did a fabulous job. This show would be well received in the north, I am sure